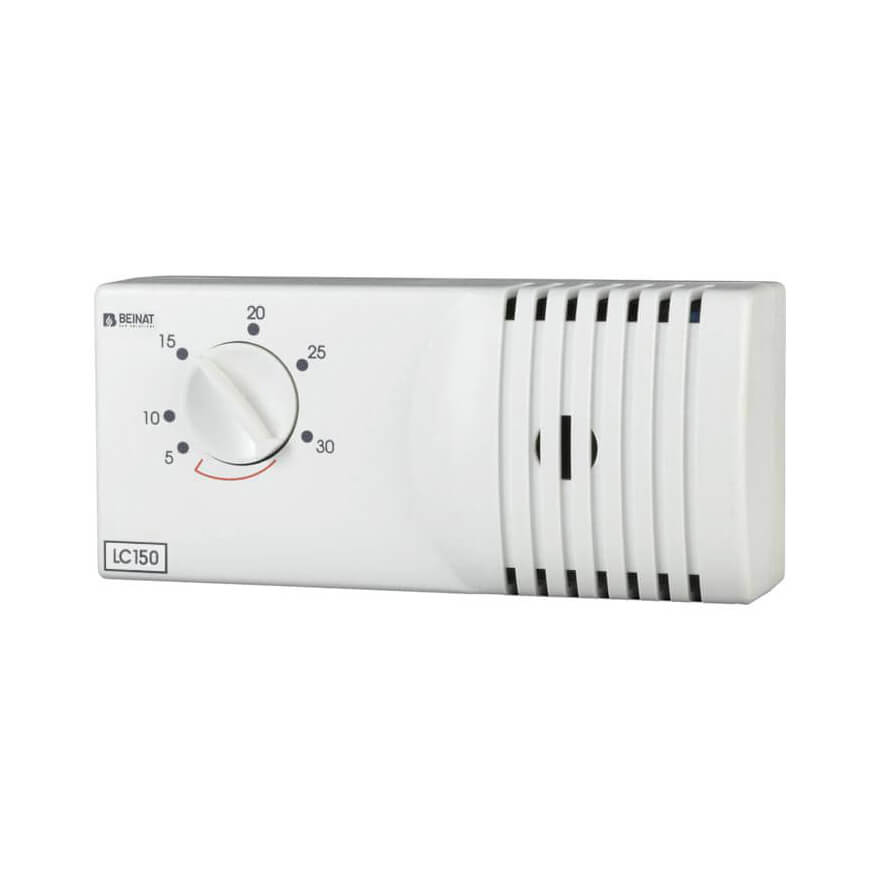 LC150
Battery electronic thermostat. Winter summer
The LC100/LC150 have a switch for selecting the mode of work that can be Summer or Winter. This arrangement makes it ideal for controlling fan coils, air generators, air conditioning systems.
The battery operation allows to replace with extreme rapidity and without the necessity to bring power to 230 VAC a mechanical thermostat previously installed guaranteeing in this way the comfort that only an electronic product can give.
Primary power supply: 3 V. dc
Battery type: 2 AA size 1.5 V batteries
Battery life: 3 years
Output relay: In exchange 5A
Temperature range: 5 ° C to 30 ° C delta 0.2
Antifreeze: At the start of the race
Operating mode: Summer – Winter
Working temperature: -10 ° C ÷ + 40 ° C
Operating humidity: 0-90% no condensed
Degree of protection: I P 3 0
Dimensions: 112x37x50
The perfect partner for the wholesaler
For years, Beinat is your company's trusted partner: its products are 100% guaranteed and its reliability allows a constant turnover within your warehouse. The study of our products allows obtaining advanced equipment capable to meet all needs. Our quality certifications and warranty
CONTACT US
Our quality and guarantee certifications
The importance of quality policy
The goal has always been to provide products that meet the customer's needs, through continuous performance improvement and with a full commitment.