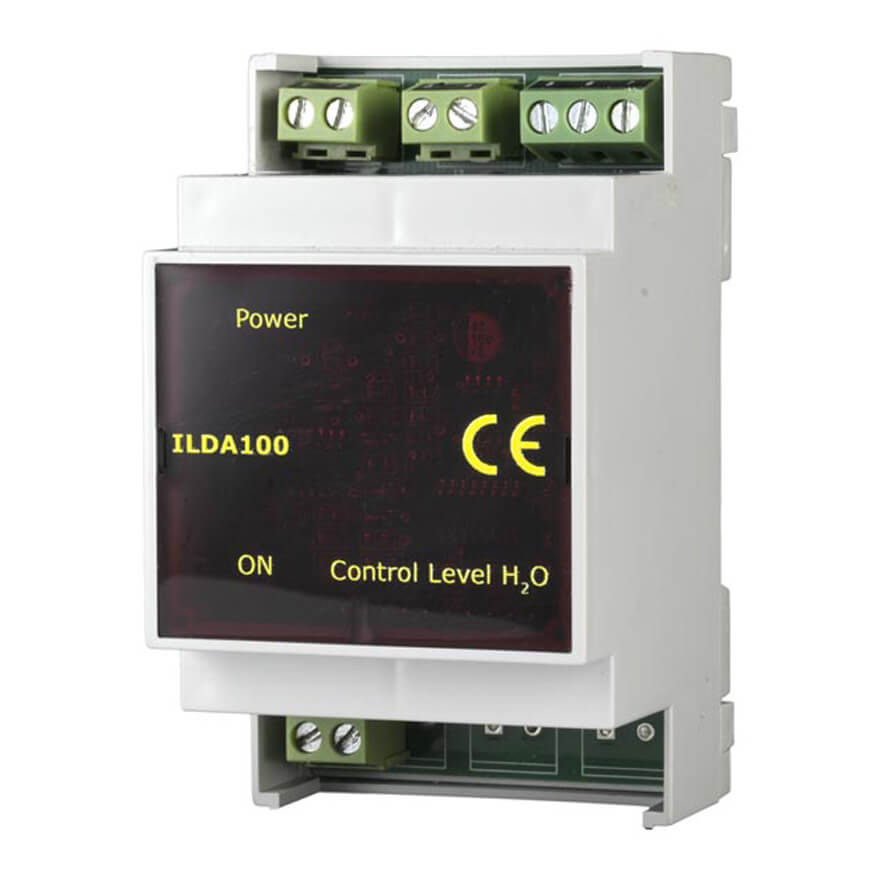 ILDA100
Minimum or maximum level switch and anti-flooding
The ILDA100 level switch is an electronic device which, by means of the built-in relay, controls a pump or a valve while maintaining the amount of liquid present in a reservoir within certain thresholds chosen by the user. Similarly serves for the prevention of flooding, by means of the built-in relay can control both a solenoid valve is a transfer pump. There are two probes that determine the functioning of the control switch one for the common and an other for the maximum level. On the front panel you can visually check through led's work status of the equipment connected to it is turned on or off..
Primary power supply: 230/240 VAC ± 10% 50Hz
Primary power supply: 12/24 VDC
Consumption: 2W
Output relay: in exchange 10 A 240V
Adaptable probes: SL150-SL160
SA100 Flood Probe:
Max probes distance: 100 mt.
Working temperature: -10 + 40 ° C
Operating humidity: 0-90% N.C.
Protection degree: IP20
Dimensions: 53 * 90 * 58 (3 modules)
The perfect partner for the wholesaler
For years, Beinat is your company's trusted partner: its products are 100% guaranteed and its reliability allows a constant turnover within your warehouse. The study of our products allows obtaining advanced equipment capable to meet all needs. Our quality certifications and warranty
CONTACT US
Our quality and guarantee certifications
The importance of quality policy
The goal has always been to provide products that meet the customer's needs, through continuous performance improvement and with a full commitment.