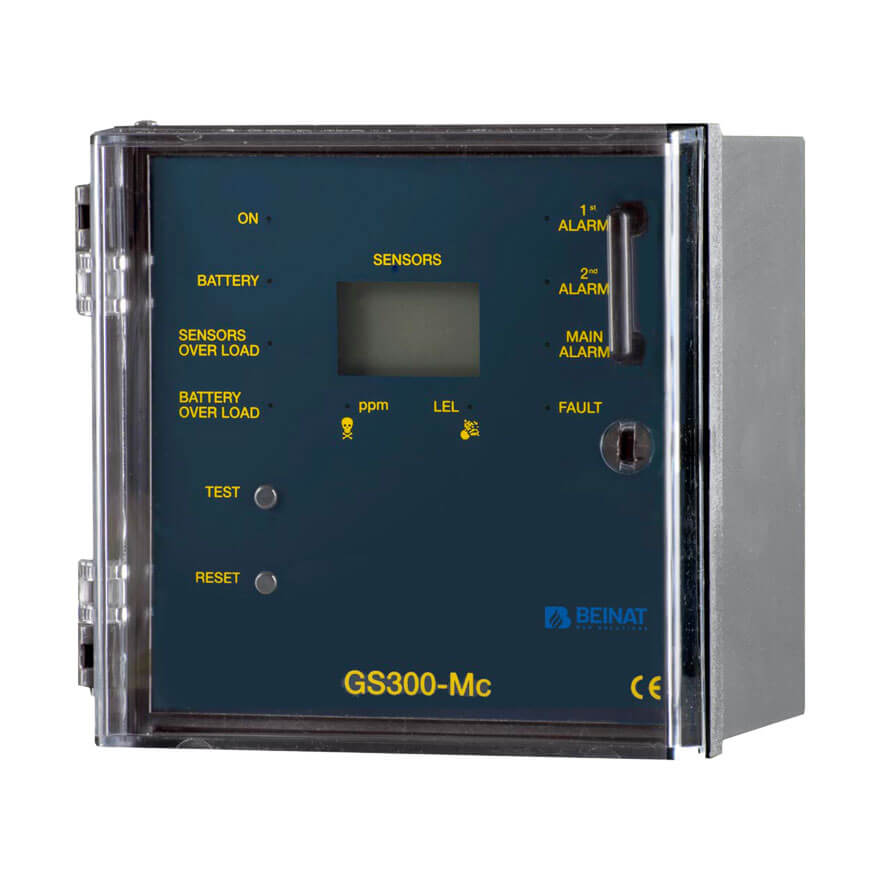 GS300-Mc
3 Channel explosive and toxic gas detection controller for industrial use
The GS300-Mc control unit has been designed and built according to European regulations to flexibly detect the presence of toxic and/or explosive gas and Oxygen, through the connection of 3 remote sensors. A microprocessor is used to create a complete surveillance and control system with maximum flexibility. Thanks to this and its other features GS300-Mc is suitable for civil and industrial use and small underground car parks.
The GS300-Mc control unit has three hazard levels:
1st LEVEL, 1st Alarm. It is set to 8 % of L.E.L. (120ppm)
2nd LEVEL, 2nd Alarm. It is set at 13% of L.E.L. (200ppm)
3rd LEVEL, Main Alarm. It is set at 20 % of L.E.L. (300ppm)
Primary power supply: 110 ÷ 240 VAC 50/60 Hz
Secondary power supply: 12 V. DC ± 10%
Absorption: 8 W in alarm
Pre alarm output relay: ON-OFF
Alarm output relay: In exchange
Failure relay: ON-OFF
Gas probe: Max. 3
Catalytic, Electrochemical, Semiconductor, Pellistore
Explosive alarm threshold: 8 – 13 – 20% LIE
Toxic alarm threshold: 120 – 200 – 300 ppm
Input signal: 4 ÷ 20 mA on 220 Ohm
Accuracy: 1% FS
Positive Security: Selectable
Color display changeable according to the working status
Working temperature: -10 ° C ÷ + 60 ° C
Protection degree: IP44
Installation: Wall or square
Size: 144x144x108
Package Dimensions: 170x170x120
Weight: approx. 500 grams
The perfect partner for the wholesaler
For years, Beinat is your company's trusted partner: its products are 100% guaranteed and its reliability allows a constant turnover within your warehouse. The study of our products allows obtaining advanced equipment capable to meet all needs. Our quality certifications and warranty
CONTACT US
Our quality and guarantee certifications
The importance of quality policy
The goal has always been to provide products that meet the customer's needs, through continuous performance improvement and with a full commitment.