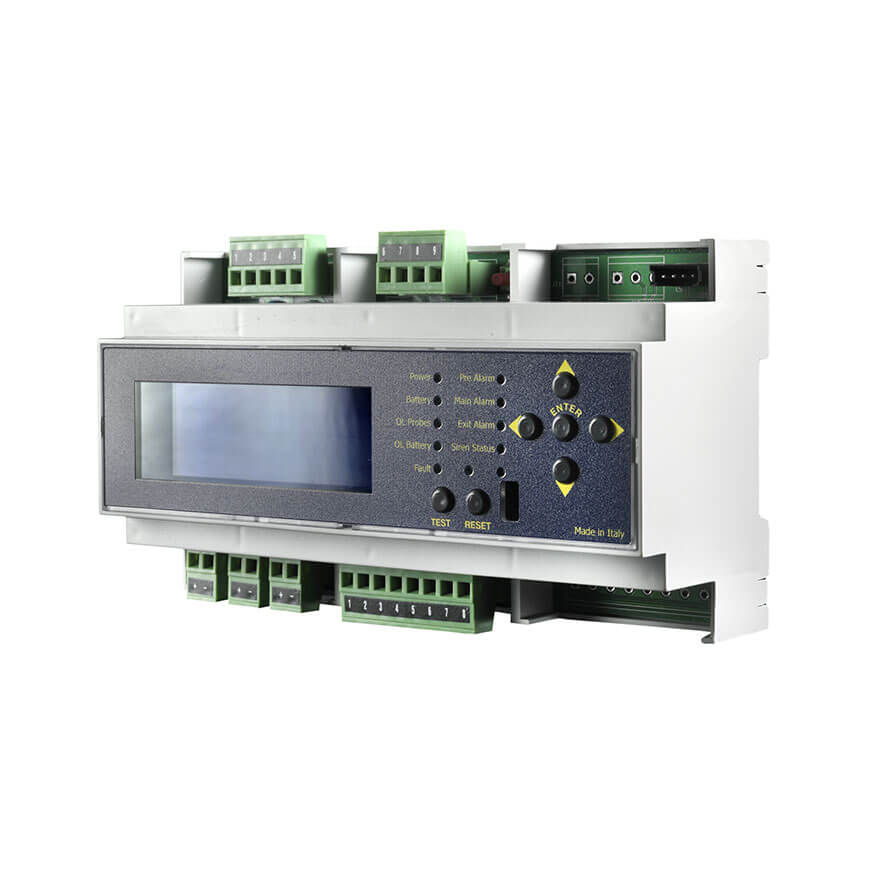 BX380XP
Modular detection controller: 1 zone for 8 conventional sensors
The control unit has been designed and built according to the European Standard to verify the presence of
toxic, explosive gas and Oxygen in a versatile way thanks to the possibility to connect up to 8 conventional sensors. The control unit has both a pre-alarm relay and a general alarm relay. The control unit has two versions: the DIN rail 9 modules version and the box version (BOX KAC009)
The control unit features two hazard levels:
1st LEVEL, pre-alarm. This data is variable; the technician can modify the pre-alarm intervention for every probe according to the type of plant to be controlled. The level can be selected from 3% to 16% of L.I.E. or from 45 to 240 ppm
2nd LEVEL, general alarm. it is set to 20 % of L.I.E. or300ppm
The control unit is equipped with two general alarm relays with/without Positive Safety Switch to enable further independent control of two solenoid valves.
Suitable for industrial environments and in underground car parks.
Primary power supply version BX308xp: 15 V.cc
Secondary power supply from battery Max 2.2 Ah: 12.7 V. cc
Max 2.2 Ah battery charger: checked
Absorption: 18 W in alarm
Conventional Probes: Max 8
Catalytic, Electrochemistry, Semiconductor, Pellistor
Explosive alarm threshold: 20% of the LEL and 300ppm
Input signal: 4 ÷ 20 mA on 150 Ohm
Accuracy: 1% FS
Display: 4 rows 20 columns
Positive Safety: Selectable
Pre alarm output relay: ON – OFF
Alarm output relay: Exchange
Failure relay: ON – OFF
Manual alarm signaling: incorporated
Working temperature: -10 ° C ÷ + 60 ° C
Dimensions BX308xp: 158x90x58 9 modules
Package Dimensions: 197 x 122 x 67
Weight: 390 grams approx.
Degree of protection: IP20
Dimensions BX308xp: 158x90x58 mm 9 modules
Package Dimensions: 197x122x67 mm
Weight: 390 grams approx.
Degree of protection: IP20
The perfect partner for the wholesaler
For years, Beinat is your company's trusted partner: its products are 100% guaranteed and its reliability allows a constant turnover within your warehouse. The study of our products allows obtaining advanced equipment capable to meet all needs. Our quality certifications and warranty
CONTACT US
Our quality and guarantee certifications
The importance of quality policy
The goal has always been to provide products that meet the customer's needs, through continuous performance improvement and with a full commitment.