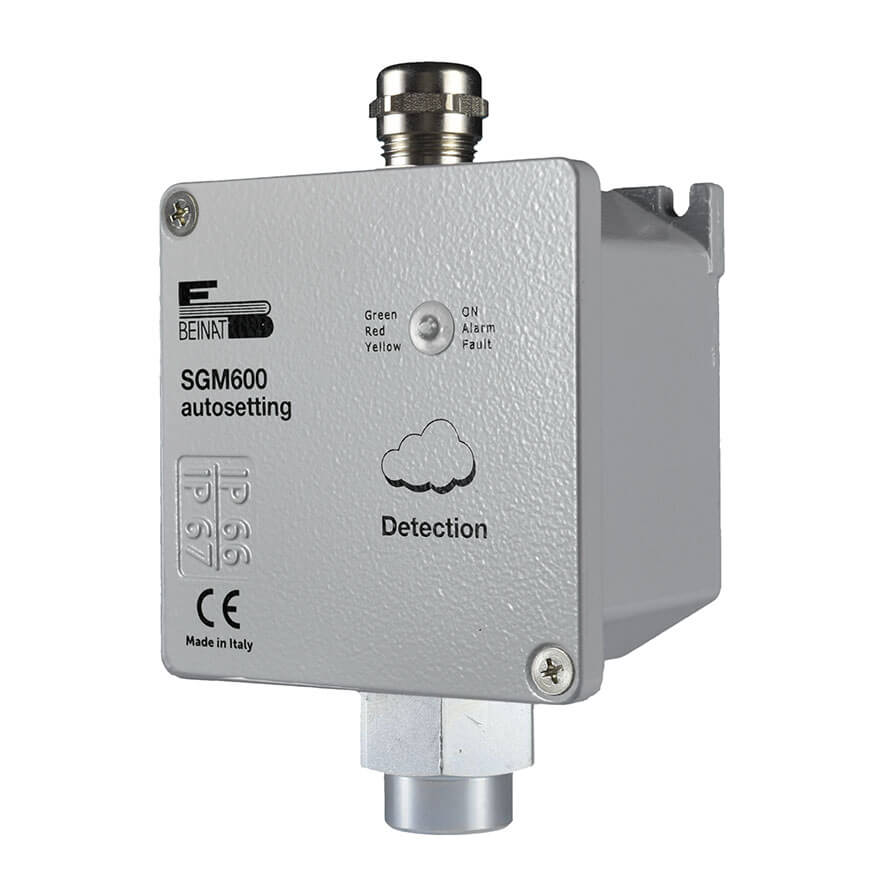 SGM600
Conventional explosive auto-calibrating gas sensor for tertiary use with temp. 60°. IP66
The sensor is a Catalytic gas detection detects the presence of esplosive gas such as Methane, LPG, Hydrogen and other types of gas (see user giude).
The sensor is managed by a microprocessor which allows execution of a self-diagnosis and therefore an , in order to always have the maximum detection accuracy. The self-calibration means the probe adapts in harsh and variable temperature environments, avoiding false alarms due to anomalous events.
Test: to perform a precise and self-certified test, use the TS1008 instrument, which also serves to carry out the annual check.
Primary power supply: 12 ÷ 24 VDC ± 10%
Absorption: 1W max @ 13.8VDC
Signals: Green LED for regular function, yellow Fault light, red Alarm light
Conventional sensor: catalytic
Sensor replacement: independently
Operating range selection: 0 ÷ 20% or 0 ÷ 100%
Analog output signal: 4 ÷ 20mA on 220 Ohm
USB test socket: TS1008
Working temperature: 60 ° C
Degree of protection: IP66
Container and dimensions: Aluminum 100x100x60 mm
The perfect partner for the wholesaler
For years, Beinat is your company's trusted partner: its products are 100% guaranteed and its reliability allows a constant turnover within your warehouse. The study of our products allows obtaining advanced equipment capable to meet all needs. Our quality certifications and warranty
CONTACT US
Our quality and guarantee certifications
The importance of quality policy
The goal has always been to provide products that meet the customer's needs, through continuous performance improvement and with a full commitment.