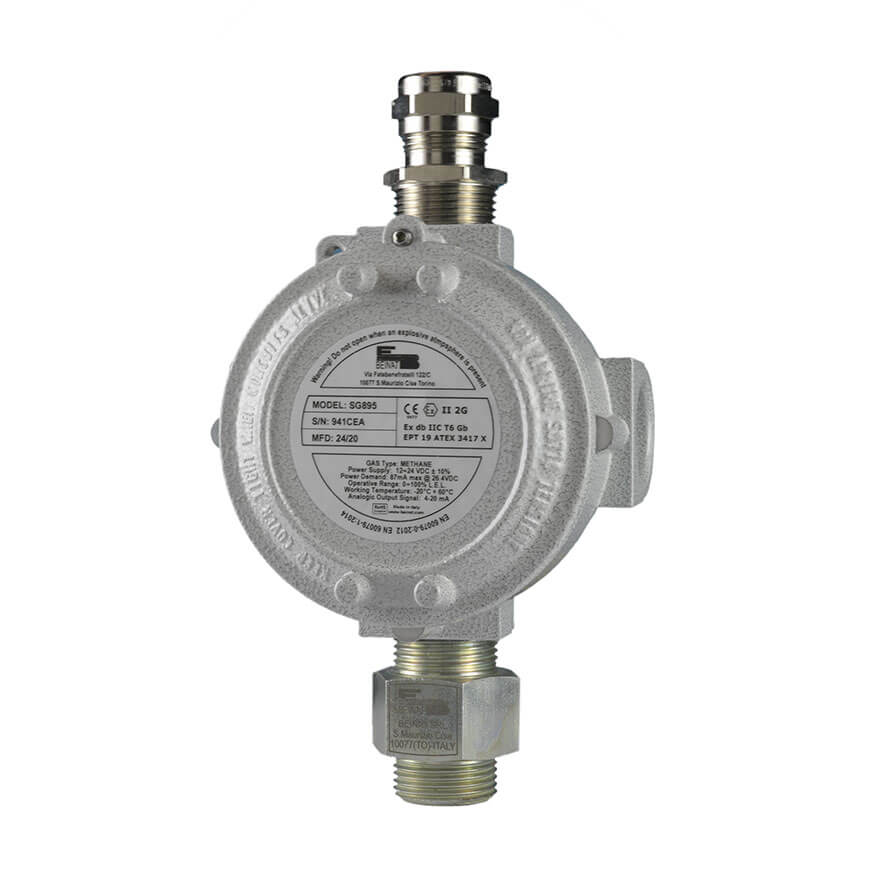 SG895-Atex
ATEX conventional sensor for explosion-proof areas.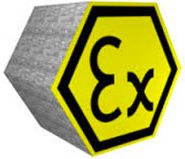 The ATEX gas sensor SG895, with protection degree IP66 Explosion-proof ATEX Certified, has the capacity to control, through its Catalytic technology sensors, the presence of: Explosive Gases, toxic gas such as Carbon Monoxide and other gases (see user guide). Thanks to its innovative technology advances, the probe is suitable to industrial use and car parks. The sensor is managed by a microprocessor, which executes a self-diagnosis and therefore an automatic calibration in order to obtain the maximum detection accuracy at all times. The self-calibration means the probe adapts in harsh and variable temperature environments, avoiding false alarms due to anomalous events.
Test: to perform a precise and self-certified test, use the TS1008 instrument, which also serves to carry out the annual check.
Power supply: 12 ÷ 24 VDC ± 10%
Absorption: 110 mA in alarm Max @ 13.8V
Detection sensor: See table below
Explosive gas working range: 100% of the L.I.E.
Toxic gas working range: 1000 ppm
Signals: green LED regular function, yellow Fault light, red alarm light
Operating range: Select from 0 ÷ 20% to 0 ÷ 100%
Detector accuracy: 1% FS
Autozero procedure: Included in the software algorithms
Analog output signal: 4 ÷ 20 mA on 220 Ohm standard tolerance
Operating humidity: 20-90% RH / 40 ° C
Working temperature: See table below
Storage temperature: from -25 ° C to + 70 ° C
Maximum distance from the control unit: 100 m
Connection cables section: 1 mm
Test socket for: TS1008
Compatible ECUs: The whole Beinat series
Probe body material: Die-cast aluminum
Overall dimensions: 100 mm
External protection degree: IP66 / 67 ATEX certified
Electromagnetic Compatibility: EN 50270-1999
Certificate number: EUM1 10 ATEX 0169
Reference standards: EN 60079-0 EN 60079-1 EN 61241-0 EN 61241-1
Package Dimensions: 178 x 130 x 85
Weight: approx. 670 grams
The perfect partner for the wholesaler
For years, Beinat is your company's trusted partner: its products are 100% guaranteed and its reliability allows a constant turnover within your warehouse. The study of our products allows obtaining advanced equipment capable to meet all needs. Our quality certifications and warranty
CONTACT US
Our quality and guarantee certifications
The importance of quality policy
The goal has always been to provide products that meet the customer's needs, through continuous performance improvement and with a full commitment.