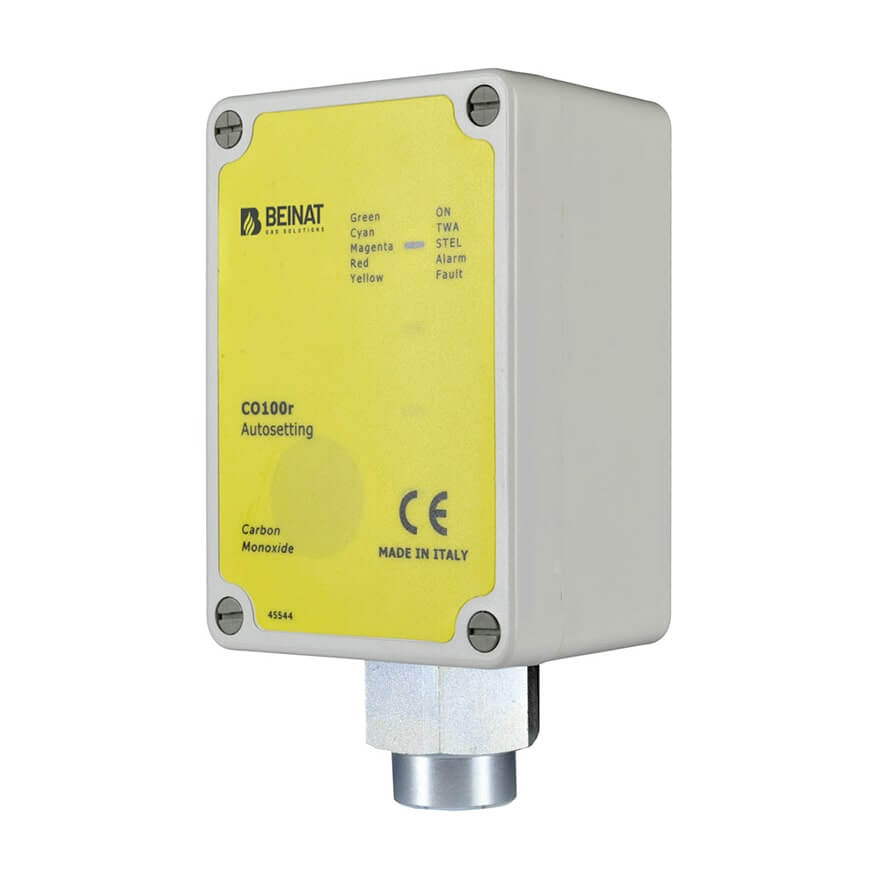 CO100r
Conventional carbon monoxide gas sensor. IP55
The CO gas sensor CO100r detects the presence of TOXIC GAS such as Carbon Monoxide. The sensor is fitted with an Electrochemical Cell sensor and is managed by a microprocessor, which not only supplies an alarm signal to the Control Unit connected to it, but also allows execution of self-diagnosis in order to obtain the maximum detection accuracy at any time. This device is useful when both the maximum CO admissible concentration threshold set to 300ppm is exceeded, and when low CO concentrations persist in the environment for lengthy periods, and which according to the principle of accumulation, could also damage the human organism. .
Test: to perform a precise and self-certified test, use the TS1008 instrument, which also serves to carry out the annual check.
EN 45544-1-3 – CEI 216-3 – EN 50270
Power supply: 12 ÷ 24 VDC ± 10%
Absorption: 1 W max @ 13.8V
Signals: green LED regular function, yellow Fault light, red light
Exchange alarm relay: 10 SELV
Failure Relay: 10 A 250V SELV
Sensor: Electrochemical Cell
Measuring range: from 0 to 5000ppm
Output signal: 4 ÷ 20 mA on 220 Ohm
Alarm threshold: 300ppm
Test socket for: TS1008
Compatible ECUs: The whole Beinat series
Working temperature: 50 ° C
Protection degree: IP55
Container and Dimensions: ABS 78x114x58
Package Dimensions: 197x122x67
Weight: 300 grams approx.
The perfect partner for the wholesaler
For years, Beinat is your company's trusted partner: its products are 100% guaranteed and its reliability allows a constant turnover within your warehouse. The study of our products allows obtaining advanced equipment capable to meet all needs. Our quality certifications and warranty
CONTACT US
Our quality and guarantee certifications
The importance of quality policy
The goal has always been to provide products that meet the customer's needs, through continuous performance improvement and with a full commitment.